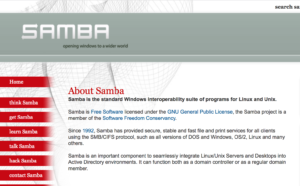 Samba is an open source software to provide windows file and print sharing on Linux server.
Windows 10: Setup Tips
Q: Windows 10 displays error message "\\samba\share is not accessible. You might not have permission to use this network resource. Contact the administrator of this server to find out if you have access permissions. You can't connect to the file share because it's not secure. This share requires the obsolete SMB1 protocol, which is unsafe and could expose your system to attack. Your system requires SMB2 or higher. For more info to resolving this issue, see: https://go.microsoft.com/fwlink/?linkid=852747"
A: Your samba server is too old, and samba software upgrade is required. Alternatively, you can install and enable SMB1 protocol on Windows 10 computers at Control Panel > Programs and Features > Turn Windows Features on or off > check or uncheck the box for "SMB 1.0/CIFS File Sharing Support".
Related Websites
Samba Official Website: https://www.samba.org/